Unusual Holiday Lights

The Christmas lights around Oxford seem quite understated after the USA. Back home in Brunswick, Maine people go wild. I've seen a dry-docked boat towing a skiing snowman and Santa with all the reindeers on the roof. First prize for original Christmas lights in Maine this year goes to Melissa Walters and Bob Black. Check out their house lights above. That's the date when the next American president will be sworn into office.
Given that there is no separation between church and state in England, I was not expecting much for Hanukkah. The stores were filled with only Christmas decorations and busy shoppers. Trees were adorned with lights and tasteful white stars hung above the high streets.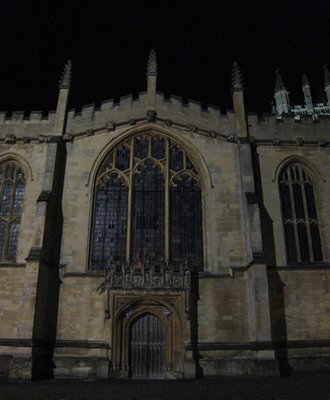 Sunday night we had just come from a lovely candle-lit carol service at
Magdalen College
Chapel when my daughter cried out, "Look a giant outdoor menorah!"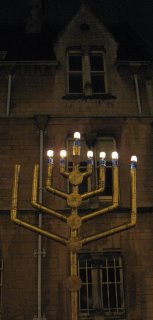 "Where?"
"Right there next to the Christmas Tree."
At first I thought it had to be Advent candles, but sure enough it was a menorah on Broad Street. The biggest one I've ever seen. Add the gothic architecture and it was surreal. My daughter came back the next night to see how it was lit. At 5:00 pm a cherry picker truck hoisted up a rabbi to light the gas lamps. Brilliant!
Hanukkah
is usually an understated affair, celebrated in the home by lighting candles for eight nights. Yesterday was the last night. It's not the most important Jewish holiday but has risen in importance to balance the commercial appeal of Christmas for children.
Growing up in NYC with a Jewish father and an Episcopalian mother, my family celebrated both Christmas and Hanukkah as well as Easter, Passover, Rosh Hashanah and Yom Kippur. I thought I was pretty lucky and have done the same for my family. Only my children, unlike me, went to
Hebrew School
for several years. It's a relief when Hanukkah and Christmas don't overlap. It makes the balancing act a little easier.
MOOSE CROSSING
is about a mixed religion family that moves from NYC to Maine after 9/11. There's even a scene with a
moose menorah
. First novels are often very personal. Common advice is to write about what you know. The characters and the plot are fictional, but I do like to draw from experience for setting and subject.
S.A.D.
also looks at multiple religions. Neither book is particularly religious, but belief and identity are important themes.
Right now I'm busy turning around
S.A.D.
for my next reader, Kim Slote, who will be reading over her holiday vacation. That's a good friend! Kim does advocacy for
Planned Parenthood
in Florida as well as selling
natural cosmetics
. She's a mother of two children and coincidentally from a mixed religion family too. I like to test my work on typical readers as well as get feedback from those in my profession.
As I work on plot, I highlight each plot string in a different color. That shows me how the sub plots are proportioned throughout the narrative and in relation to one another. Unweaving the plot helps me address specific criticisms and focus on inconsistencies, redundancies and verbosity. Each plot string needs to be able to stand alone and to weave seamlessly into the whole. It's rewarding when it all comes together in the end. Still plenty of work to do!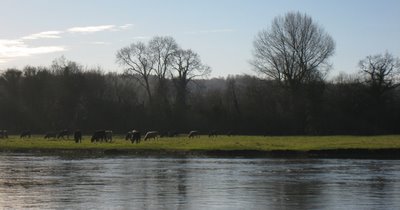 I'm dreaming of a green Christmas....
Labels: Brunswick, England, holidays, Magdalen College, Moose Crossing, NYC, Oxford, S.A.D., writing