Wolvercote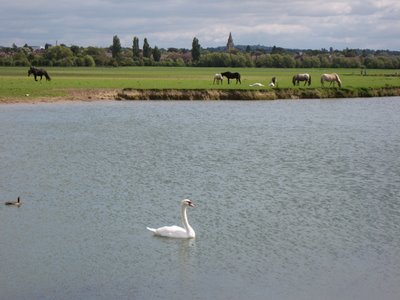 At the end of our road are cows, horses and a bus stop. Wolvercote is a couple of miles up the Thames (or Isis as it is called only in Oxford) from the university. Port Meadow stretches as far as the eye can see along the river. Dogs run off-lead and swim with the swans. Stella tried to catch one, but it hissed at her. Its takeoff sounded like galloping horses taking down a sail. Stella has not tried again.
So how did I get my dog to England and avoid the rabies quarantine? Ridiculous amounts of money and more than six months of paperwork. Stella had to fly British Air cargo while we had frequent flier miles for American Airlines. The British authorities insisted on a Saint Bernard size crate that fit not only the dog but also three kids. It would have been cheaper to buy Stella two seats on the plane! Or a new Golden Retriever in England?
Our friends the Bradley-Webbs, who moved to France from Maine, said taking the dog was the best thing they did to feel like home, especially for the children. They were right. Finding Stella sprawled belly up, chewing on someone's sock, is home. She took the journey in stride and has already become pals with my in-laws' King Charles spaniel.
Henry's parents live in Goring up the Thames from us, less than an hour drive away. They've been a tremendous help dog and kid sitting while we got settled. Like magicians, they pulled out of their small basement extra china, glasses, rugs and desks for the kids. I'm not sure if it's jetlag or the move, but I've never been more exhausted. It's been worth it.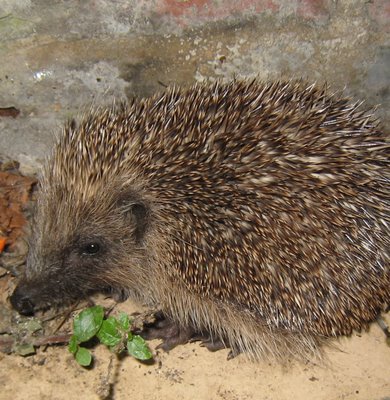 Wolvercote is such an idyllic setting with Beatrix Potter cottages around a village green. There are even hedgehogs living on our dead-end road: imagine a prickly hamster only cuter. Other than the rumble of the not so distant motorway, it's surprisingly rural. The buses run every 15 minutes. Henry's office at the Nissan Institute of Japanese Studies at Oxford University is on the route, only 10 minutes away.
All the houses on our road are attached and hobbit sized. It's a friendly neighborhood like Brunswick, Maine only more international. I've already met many on our road, including three partially American couples, one who met in Japan. Most of the children are very young, but one is my daughter's age. They became buddies on the first day.
Wolvercote has a post office/convenience store, one Chinese take-away and four(!) pubs. Henry claims the Trout is the best pub in Oxford County. I highly recommend the beetroot and goat cheese salad with a half pint of Landlord to chase jetlag. This is what happens when an Englishman picks a residence: country walks and a good pint.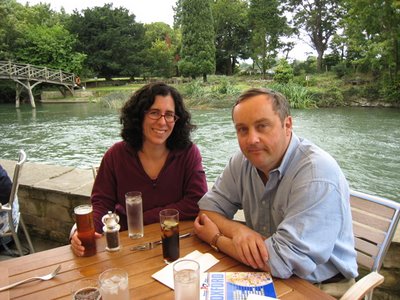 Henry did well as our new home has a gourmet kitchen complete with an American-size fridge and an open-plan family/dining room overlooking the garden. My elbows hit the shower stall walls when I lather up, but the pressure is good even by American standards. It also has a deep English bathtub and architect designer touches, feeling like a luxurious vacation home. The only drawback is no drier in a country with more rain than sun.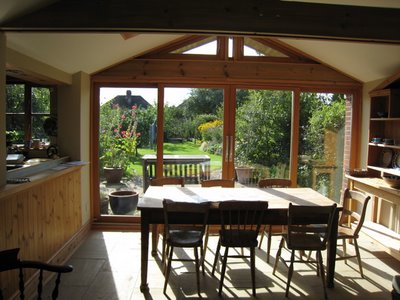 I found a Staples and transformed the fourth bedroom into a cozy office. I bought a thesaurus and a baby name book in a discount bookshop. If only getting BT to connect us to the internet were as easy. I'm blogging from Henry's office while he's at a conference.
I've needed some time off work to hit the superstores and fill the gaps. Can we live without a microwave? Where can we find nesting Tupperware? I never thought I'd say this, but I miss Wal-Mart, especially given the worst ever exchange rate of the dollar to the pound. Lamaze breathing helps for sticker shock.
It cost $100 to fill the tank of the used Subaru we bought sight unseen. It's a drug dealer's car all black with tinted windows, leather seats and a vicious alarm. Or maybe designed for a funeral? Hopefully not mine. It takes some getting used to driving on the wrong side of the road. It was like the windscreen was a mirror. Worse still, every turn has hedges blocking the view of traffic, and the roads are often not wide enough for two cars, especially over bridges. Some bridges have traffic lights, but usually you have to back up and pray you don't hit the elderly lady with a straw hats on a bike behind you. My trial run was during the next village's fair, but somehow we survived it without crashing into a thatched cottage.
Despite the challenges, I'm thrilled to be here. I'm already back to work revising S.A.D. and gathering material for NOT CRICKET. It's such an adventure to try a new life for a year, especially in a storybook setting. If only BT would deliver our modem, the fairytale would have a happy ending.
Labels: dog, England, horses, Not Cricket, Oxford, Port Meadow, pubs, restaurants, S.A.D., Wolvercote