Wild Blueberries
Every summer Carol and David invite our old playgroup for a potluck supper and blueberry picking. These berries aren't the high bush variety you buy at the supermarket, but tiny, low bush wild berries that take patience and a strong back to pick. Better yet, send out the kids with buckets just like
Blueberries for Sal
. The only problem is kids eat more than they pick. Can't blame them: these sun-warmed gems are the truffles of fruit.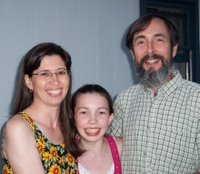 Carol edits the
L.L.Bean
catalogue and David writes social studies textbooks. They both used to work in publishing. They relocated from Boston to Brunswick for the quality of life. David is a Bowdoin College alum and a vegetarian who grows his own vegetables and blueberries. Deer and sometimes moose come for nibbles as do their friends. Absolutely nothing beats Carol's blueberry cake. Their daughter is a talented figure skater who even skates in the summer. You've got to love winter sports to live this far north.
When we first moved to Brunswick ten years ago, we knew nobody. We had only once gone to Maine for a vacation. I had lived in NYC, London and Cambridge, Mass. and had never thought of living in a small town. My husband had at least grown up in a similar size village, Goring-on-Thames in England, where he was visiting family and sorry to miss the potluck. More like under Thames, given the
flooding
.
Our first month in Maine, I met a mother with the most amazing name of Story Graves. Our sons were the same age, and she was pregnant while I was carrying a newborn. She invited me to join her playgroup that included women whose husbands either worked or had gone to Bowdoin College. Like me, these mothers were home or working part time and were well educated. We bonded over the challenge of being the primary caretaker to little kids without compromising our feminist roots. Our children became best friends and the families formed close connections that lasted beyond the life of the playgroup.
From that playgroup came a book group, and from that book group came my first novel,
Moose Crossing
. I was struck seven years ago by how few books were geared towards mothers in book groups. Busy, tired women need books that engage them intellectually but are easy to read and too engrossing to quit. They want characters they can relate to but settings that would feel like an escape. So many of our conversations diverged from the books into discussions about parenting, in-laws, memories of childhood and the challenges of relationships. Why not write a book just about that?
Moose Crossing is a romantic, suspense thriller to keep the reader engaged, but at it's heart is the story of female friendships, mothering, marriage, family dynamics and balancing career and family. It's a contrast between urban and small town life and about the choices a woman makes and their consequences. It's fiction, but it draws from my personal experience of coming to Brunswick as an urban outsider.
It never ceases to amaze me how happy I am living in a remote college town so far north, but what could be finer than a potluck supper with friends on a typical Maine summer day? It's warm, not hot, and free of humidity. The sun angles low on the horizon, casting a warm glow. Conversation, music and laughter linger, stretching longer than the shadows.
Labels: Brunswick, Moose Crossing